How do I manually add a user to my Cause or Event?
Kambeo group pages can have an unlimited number of administrators. Here are the steps to add one.
Go to your Cause or Event Management Page
Click on Contacts on the left hand tab
Click + Invite Contacts on the main window
Enter users email and select either Admin** or Member from the drop down.
Click send (An email will be sent to the user to accept the invite)
**Making them an Admin gives them the ability to create, edit, manage etc. on behalf of your group page.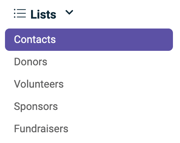 ---