How to add, edit, and reorder tabs?
Customize your page's content layout using Kambeo's dynamic tab functionality.
From a Cause / Event page, Kambeo allows users to edit the text, amount, and order of the tabs. This is a great way to design your pages in unique ways.
1. Click the + button on the right side of the tab row.

2. The Manage Tabs modal will appear (see image below).
3. To edit the text of a tab, click the Pencil icon, edit the text, and then click the Save Icon.
4. To Remove a Tab click the Trash Can icon.
5. To reorder the tabs, click and drag the tab to your desired position.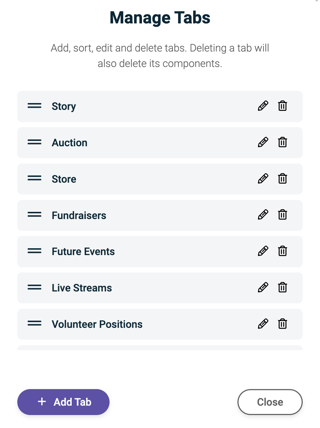 ---