Kambeo platform changes and updates
Stay informed on the latest changes to the platform and what's coming!
Table of Contents
Highlight Features & Enhancements
Release Summary
Release Date: Monday, November 15th, 2021
Bugs Fixed: 35
Features and Enhancements: 31
Highlight Features & Enhancements

Twitch Integration
Now you can use your Twitch account to host Livestreams & eSports tournaments with ease. We have taken our integration to the next level and embedded it directly into your peer-to-peer fundraisers as well. Easily drop a live stream on to any event, or enable your fundraisers to live stream as well when they set up fundraising pages. Your entry into the esports arena has never been easier. If you are interested in learning more about how Kambeo can help you engage with the gaming community, click below to connect with one of our specialists.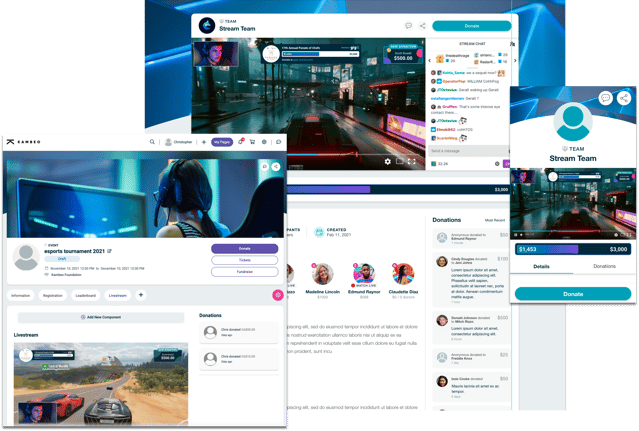 Strava Integration
With the increase in virtual events, many peer-to-peer fundraisers have also gone solo. Individuals participate on their own and document their activity to support their cause. Kambeo has listened to our users and added a Strava integration to make it simple for your fundraisers to track their activity directly on their fundraising pages.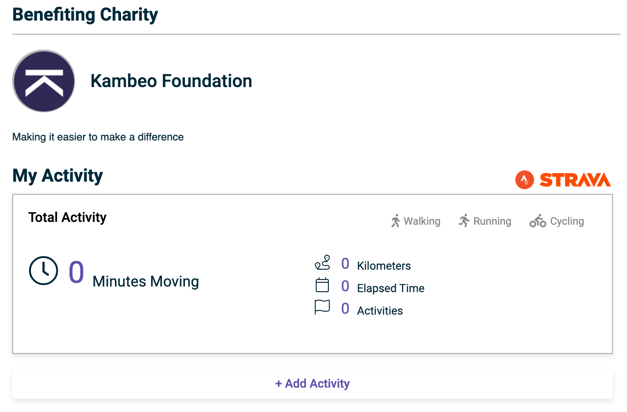 Enhanced Contact Dashboards
We continue to add management features to our Group and Event pages to help you better manage your organization or movement. Our new Contact Dashboards provide more insight into every Contact who interacts with your organization.
Custom Fields
Notes
Communication Log
Life Moments
Capacity Driven Insights

Donor
Supporter
Fundraiser
Sponsor
Volunteer (coming soon)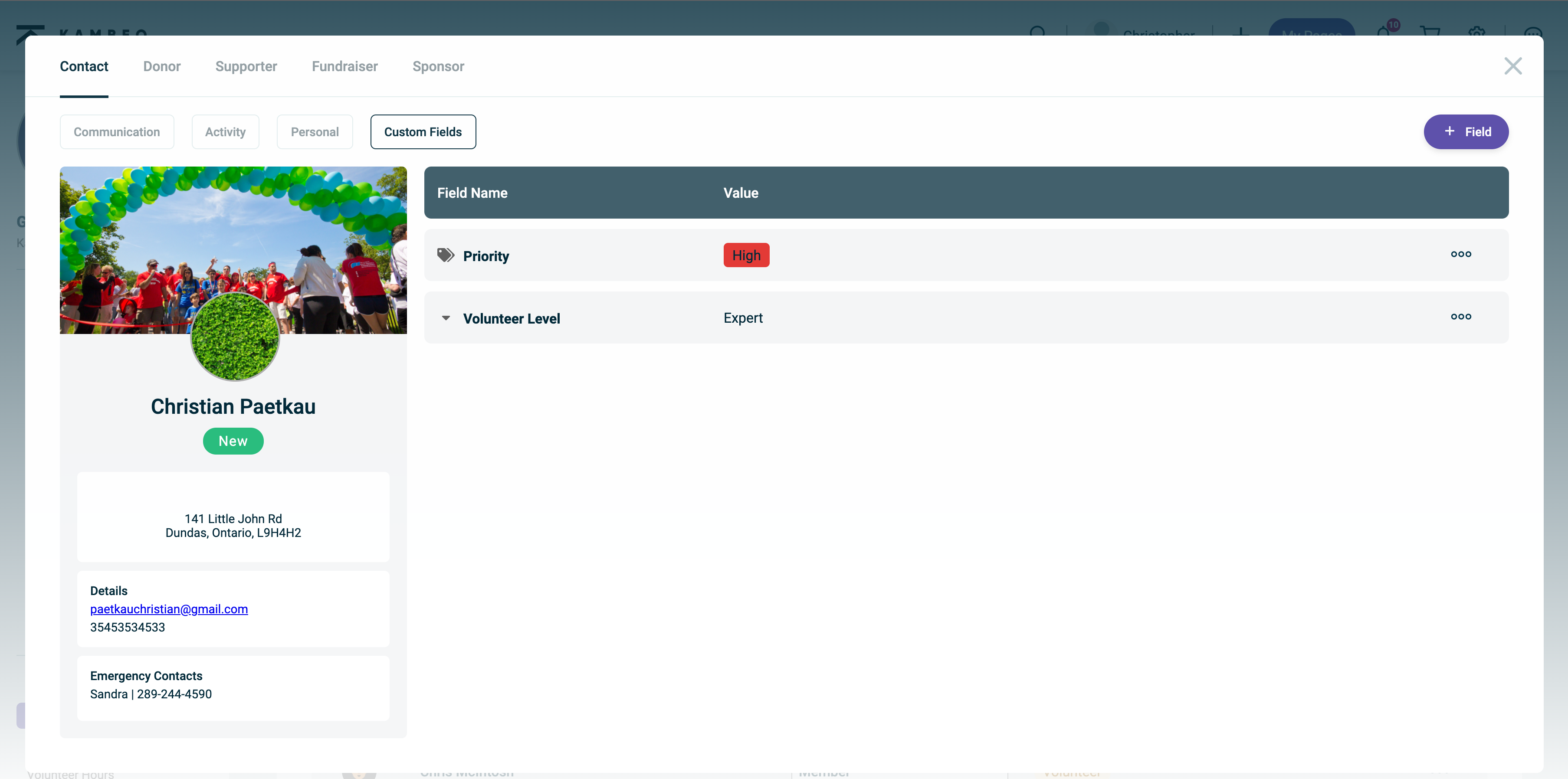 Embedded Donation Forms
We know you've been waiting, and now they're here! We have added Embed Tools to allow you to embed Donation Forms and other Calls to Action directly into your website.

Customize the branding for the buttons and your forms and simply copy and paste the code into your favorite website builder.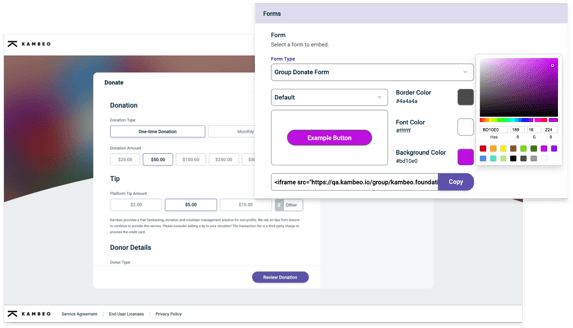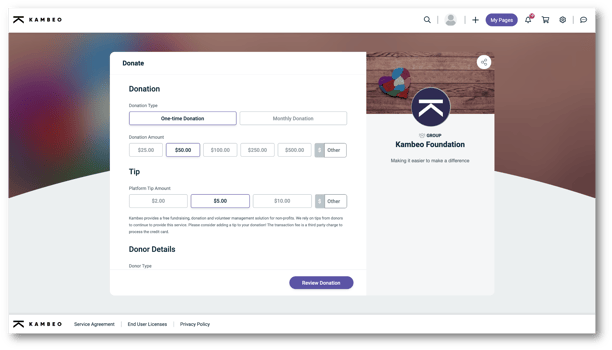 Event & Gig Statuses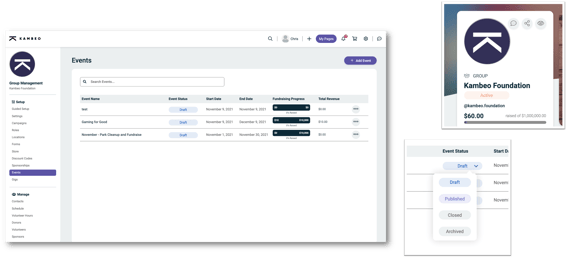 Other Enhancements
Update grey color from Kambeo update to a proper shade
Don't require a custom form for volunteering to be turned on for groups
Don't allow volunteer shifts to go over capacity
Remove Shifts selected from the application approval modal
Add Event Fundraisers Export to Attendee Page
Add a question to the standard volunteer application "Are you under the age of 18?"
Tax Receipt Updates
Follow feature for group pages
Remove category tab from group management
Remove Shift Selection from Gig Application Forms
Localization updates for better multi-language support
Add volunteer and schedule lists to gig manage screen
New Group Summary Dashboard
Add a check to group and event status change - if no active campaign throw a warning
Embedded tools for users (donation form, donate buttons, etc.)
Annual Tax Receipt Report
Auction updates to allow payments to be better managed when requiring a payment method in order to bid.
Updates to unverified account process to make it easier for users to set their password
Allow users to more easily enter their volunteer hours
Skipped Tax Receipt Number(s) Report
Verify Hours updates to help manage volunteer hours easier
Reminders for Gig Shifts (1 week, 1 day and 1 hour)
Allow users to decline a shift from user account
Make the address on the Add Volunteer screen not mandatory
Resolved Issues & Bugs
Store Items not showing
Changing a store item resets the visibility flag
Contact - Donor screen not labeled correctly
Get Group error banner
Donation Summary Screen not updating
Show event modal - does not display events
Mobile Auction Checkout - Cant Pay
Make a donation - 404 error screen
Error Screen - schedule tab
Error screen on Group Admin Page
Group Campaigns Not Found Bug
Winner email - not sending
Invoices not getting emailed
404 error when creating a store or auction item pick up location
Error uploading group profile image
Volunteer shift not populating on email
"Delete Component" Modal Prompt - Delete Action Removes Page Scrollbar
Moving a Volunteer to different shifts it doesn't delete old shift
Month Dropdown - Should be in Month Order, Currently in Alphabetical Order
Randomly getting Permission issues on Gigs
Auction dropdown options hidden on last record
Group Invite errors
Error banner - gig account tab
Add store purchase - items are not shown
Update Group calls for profile/cover images missing Id
Embedded donation form is showing the footer
When no form is attached to the group or a gig, the application form isn't being shown
Apply to gig - lands on group application and not gig's
Removing a user from shift the email doesn't state what shift was removed
Shift List - not showing in chronological order
Manage/decline shift from email drops user on auction tab
Email link goes to the wrong place
Over 20 other bug fixes
What's Next?
We are constantly working on new features and updates! Our next release will be focusing on user engagement and the end user's experience. These updates will help us drive more support to your causes and organizations.
Updated list and map searches
New Discover pages that will engage users with your content more and drive more support
Enhanced onboarding experience and user flows
Tax receipting enhancements
MailChimp Integration