Kambeo platform changes and updates.
Release Summary
Release Date: Wednesday, June 15th, 2022
Bugs Fixed: Over 130
Features and Enhancements: Over 175 new features and enhancements
Release Summary
This release is a major update to the Kambeo platform that we are excited to share with you. We initially launched our platform in August 2020 with the goal of creating a world-class solution for nonprofits and charities to manage their organization. This was only the first step in a multi-phased approach to launch the world's first social impact platform that seamlessly connects cause, community and commerce.
Release 4.0.0 is the combination of over a year's worth of customer feedback on our nonprofit tools as well as the first release of our social networking features and e-commerce solution for businesses and corporations.
Kambeo Hubs
It is no longer good enough for companies to simply make money and provide good service. People want to buy from and work for companies who are committed to making a difference and having a positive impact on local communities and the world at large. Kambeo Hubs is the first platform to provide companies with a way to display an authentic and verified version of how their employees give back, while at the same time, providing employees with a platform to help them engage directly with the causes they are passionate about and build a personal social good profile they can share with others.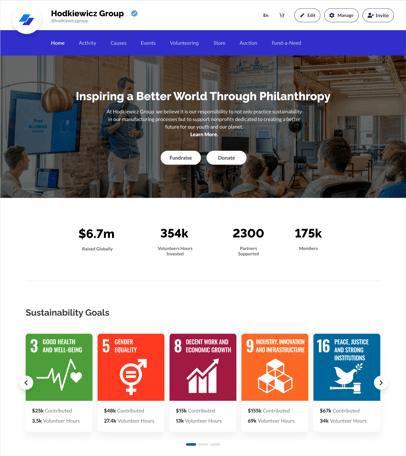 Stories
It is likely that you are already familiar with Stories that you use on other social networks. Stories have always been a way for people to share short video clips or images with their network of peers. Kambeo is taking the power of this feature and using it to help people, nonprofit and companies share their story of giving back in a fun and familiar way. We have added one twist though, you can also include verified metrics from an event, cause or hub page that you own or administer. This allows you to easily send micro impact reports to all supporters quickly and easily, while also prompting them to take action.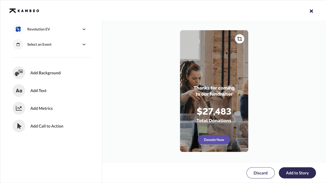 Activity Feed, Likes and Comments
The Kambeo platform is the perfect combination of world-class backend solutions for nonprofits and companies, and a social media platform for people to build a social impact profile of all the good they've done in the world and their local communities. This is our first introduction of an Activity Feed that is dedicated to serving you content from the causes, brands and people who share a passion for causes you care about.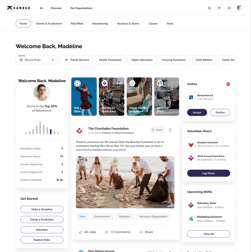 New User Dashboard
This release of the Kambeo platform is focused on the end-user experience and providing more tools for individuals to discover like-minded causes, brands and community members to engage with. We have created an entirely new User Dashboard to help you manage all of your activity on the Kambeo platform.
My Activity
Keep track of your social impact all in one place!
Agenda
See any volunteer shifts that you have coming soon and log your hours.
Applications
View volunteer applications and their current status.
Transactions
Track your donations, tax receipts, tickets, auction and store items purchased and sponsorships all in one place. Easily export your tax receipts for tax time or receipts for purchased items at any time.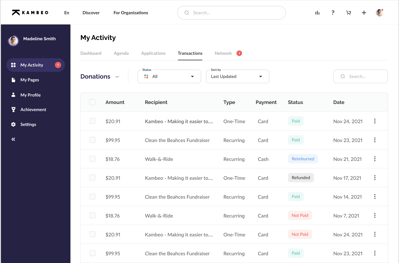 Improved My Pages
We have taken the previous version of My Pages, and we've made it better! A single place to manage all of your different pages. As an administrator of one or more nonprofits or fundraisers, you need a simple way to manage everything thats's happening. From My Pages you can see any Cause, Event or Volunteer Opportunity Page that you have created or help manage.
We have also added new tabs to help you track the Cause pages you've followed, Hub pages you have joined and other people you have connected with to grow your network of change makers.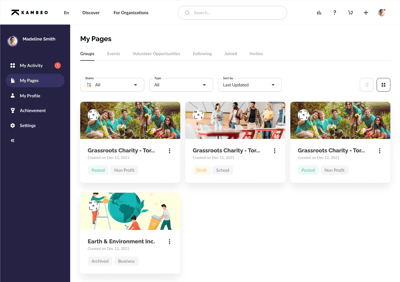 Content Partners
Kambeo's mission is to change the way people change the world. In order to succeed in that mission we need to be able to offer as many opportunities for people to engage with as possible. While Kambeo allows nonprofits and charities to post volunteer opportunities and claim their charity page in only a few clicks, we have also partnered with VolunteerMatch and Global Giving to bring more opportunities to all our users.

VolunteerMatch is the largest network in the nonprofit world with the most volunteers, nonprofits and opportunities to make a difference.

GlobalGiving is a top-rated nonprofit connecting nonprofits, donors, and companies in nearly every country in the world to accelerate community-led change. We help fellow nonprofits access the funding, tools, training, and support they need to serve their communities. GlobalGiving promotes a virtuous cycle of good by helping companies find and support vetted, community-led projects around the world. Each of the nonprofits on GlobalGiving.org has been rigorously vetted and has committed to providing donors regular updates about how donations are put to work.
Improved On-Boarding Experience(s)
We continue to look for ways to make our product easier to use for everyone. The changes we have made to our improve payment system have allowed us to further simplify the onboarding process for a user or a nonprofit. We have also updated all of our Create wizards that help users create new Events, Volunteer Opportunities or Fundraising pages.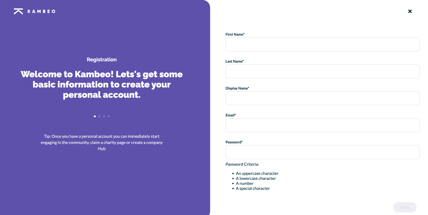 Improved Payment System
While working with hundreds of nonprofits who were creating their pages on Kambeo, we discovered that the most difficult step for people to find or understand was how to connect their organization's Stripe account so they could start accepting donations and other monetary transactions. We have worked with Stripe to re-factor our onboarding process so that step could be removed for our users. You can still connect your own Stripe account to your Cause page, but as a default, all pages will have a default Stripe account created for them when the Cause page is created. This will allow organizations to be up and running with donation pages or events in only a matter of minutes!
Tax Receipt Updates (Important)
In an effort to provide a complete solution for our nonprofits and charities, we continue to add new feature and enhancements to our management system. One area we have focused on, is giving you more control over your tax receipts so that you can maximize the potential of the system.
Changes include
We have made receipt numbers for donations separate from other receipts types like store purchases. This will help avoid gaps in tax receipt numbers and minimize accounting efforts.
A new edit modal that allows admins to edit the details of a receipt including the amount before sending.