Give your employees the tools they need to start documenting the good they do in their communities
One of the easiest ways to engage your employees in your social impact program is to provide them with an easy way to document the small things they are already doing today. Start building your company's social impact story.
Stories can be created by a user, cause, or company and will show up in a user's home pages based on the causes and companies they follow and other users they are connected to.
Encourage your employees to post their first stories and show the world their true commitment to social impact.
This will drive content in to their co-workers Activity Feeds, but also anyone following the company Hub as well.
To create a story...
1. Click Add to Story from your Home page or Company page.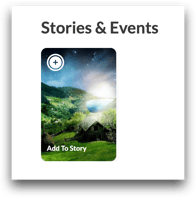 2. Use the Story builder create your new story.
Background can be an image or a video
Add Text and change the color of the text
Add validated metrics from cause, company or event pages
3. Click Add to Story
Note: Stories will last in people's feeds for 48 hours and then disappear. They will continue to be available from the Company Page multi-media component.
---